Establishment of Nuclear medicine services as a super specialty in Tanzania, goes in hand with the founding of the Radiotherapy Unit back in 1980 which was later upgraded to a comprehensive cancer centre by the Act 2 of 1996. Ever since, Nuclear Medicine Services have evolved and strengthened towards offering effective therapies and diagnostic services to the patient in Tanzania.
Diagnosis Services
Nuclear medicine imaging procedures provided at ORCI are non-invasive and, except for intravenous injections, are usually painless medical tests that help physicians diagnose and evaluate medical conditions. These imaging scans use radioactive materials called radiopharmaceuticals or radiotracers, diagnostic services currently at ORCI involves:
Thyroid scan using TC-99m Pertechnetate
Renogram using TC-99m labeled DTPA
Static Kidney studies using TC-99m Labeled DMSA
Bone scan using TC-99m labeled MDP
Scintimammography using TC-99 labeled MIBI
Radiopharmaceuticals are imported from AMESHARM SOUTH AFRICA.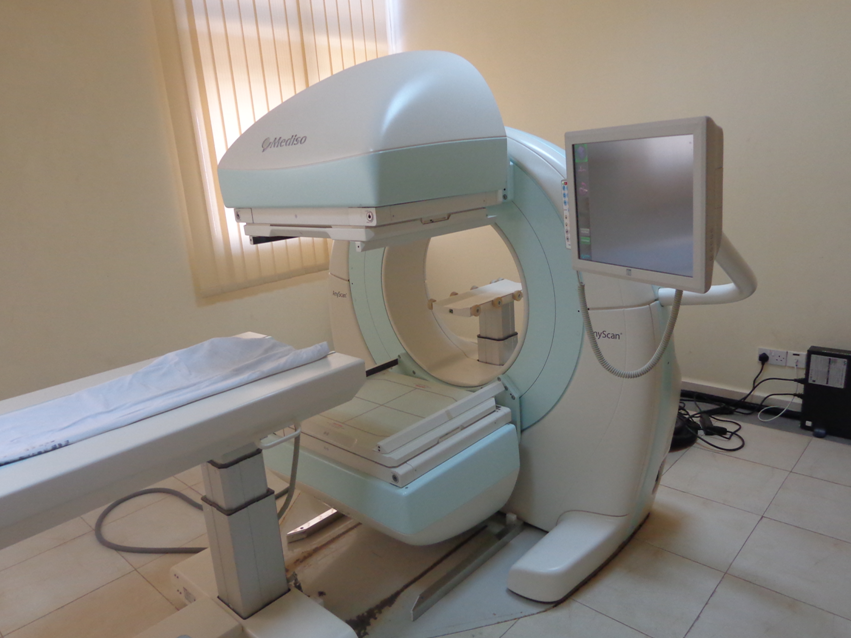 Therapeutic
Activities
Nuclear medicine department at ORCI also offers therapeutic procedures, such as radioactive iodine (I-131) therapy that use small amounts of radioactive material to treat cancer and other medical conditions affecting the thyroid gland, as well as treatments for other cancers and medical conditions.
Non-Hodgkin's lymphoma patients who do not respond to chemotherapy may undergo radioimmunotherapy (RIT).
Radioimmunotherapy (RIT) is a personalized cancer treatment that combines radiation therapy with the targeting ability of immunotherapy, a treatment that mimics cellular activity in the body's immune system.
Therapeutic Services currently offered at ORCI are:
The use Iodine 131 for ablation cancer of the Thyroid gland, treatment of uncontrolled Toxic goiter and Graves's diseases. I-131 is also imported from AMESHARM SOUTH AFRICA.
In average approximately 1250 cases of diagnostic and 54 cases of therapy are attended each annually.
Number of patients seeking Nuclear Medicine Therapies and Nuclear Medicine diagnostic services has tremendously increased in the past five year. Whereby in 2014, the number of patients diagnosed at NM were 1,312, number of patients treated with radioiodine were 523, compared to the number of patients diagnosed at NM which were 2,246 and number of patients treated with radioiodine were 835 for 2017/2018.
Achievements:
Main achievements worth mentioning for the Nuclear Medicine Department since its establishment are: –
Collaboration with International Atomic Energy Agency (IAEA) through donation of Gamma Camera back in 2014, projects and in establishing Nuclear Medicine Services in Bugando.
Training of NM staff through IAEA fellowship. One Nuclear Physicist has been trained while two are still in training.
Participation in strengthening of Nuclear Medicine services in Tanzania from Single center to three actively operating centers
Establishment of the Cardiac Imaging Services using a newly purchased Cardiac Imaging Equipment
Ample Availability of Radioactive Materials for diagnosis and treatment
Closely relationship with MSD who are extremely helpful in ordering, procuring and clearing of Radioactive materials
Plans:
Plans are underway to strengthen and enhance quality of services offered by the Nuclear Medicine Department, among them are:
To collaborate with Muhimbili National Hospital in offering Renal Transplant Services. Process are underway in final stage, whereas GFR equipment has already been ordered
The procurement and installation of PET Scan and Cyclotron equipment which will start in November 2019 and be finalized after a year period
Expansion of Nuclear Medicine Services by introducing new diagnostic test for oncology and infection imaging